ABOUT ENSER COMMUNICATIONS
Enser is driven by the belief that business success in today's scenario is intrinsically linked to exceptional consumer understanding and engagement. The primary motivation for the creation of Enser lies in the collective realization that the consumer-interaction processes and outsourcing in the Indian market needs to become more value-driven, vigorous, integrated and efficient.
We, at Enser facilitate rich consumer engagement and understanding by crafting end-to-end consumer interaction solutions that are flexible and customized to deliver on your business objectives and provide the maximum returns on investment. We take keen interest in your business context and conceptualize and implement the best customer-interaction program that will fit in with your objective. We believe that identifying and utilizing every consumer connect opportunity leads to the creation of a sustainable advantage that in turn leads to tangible business gains.
The primary motivation for Enser is to become the preferred partner for all its customers and support them with the best possible solutions with a cost effective and scalable business model.
Treat every client relationship as a business partnership. Our approach is  focused towards…
Creating customized outsourced  consumer interaction models
Understanding our clients business   objectives
Implementing and managing these to deliver maximum return on investment
Evolving the program mix over time in sync with the changing strategic business objectives
Work towards offering the best program over-coming challenges in terms of technology, geography or operating model.
Enser's core team members have in-depth experience of the business from an enterprise as well as from the service provider's end. This allows us to bring a well rounded perspective to our work and therefore create programs that have long-term, sustainable business relevance.

With reference to the technology, BPO & marketing space, Enser's management has more than 15 years of hands-on experience in all facets ranging from infrastructure creation to technology deployment, manpower management and overall management. As Indian companies move into the future, their growth and success would be dictated by the strength and quality of their consumer engagement and interaction processes. We aim to provide facilitate this with an unflinching commitment to excellence. Excel with Enser.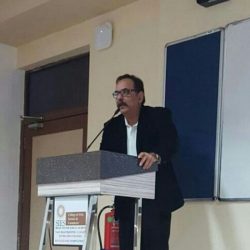 Chairman & Managing Director